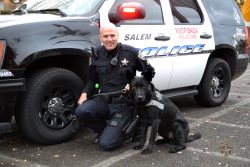 The Salem Police Foundation is raising funds to cover the medical expenses of a retired K9, Max. Max worked as a Patrol K-9 with Officer Jay Pinkerton from 2013 to 2014. Unfortunately, he developed an injury related to pinched nerves in his hip and he was unable to continue working as a Patrol Canine. Because of this, Max retired and was adopted by Pinkerton and his family. He has lived with them over the past six years.
In early April of 2020, Max became ill. The veterinarian conducted an endoscopy of Max and found a blockage. The blockage could not be removed, so the doctor had to conduct immediate surgery to save Max's life. The surgery was a success.
Max has now fully healed and is doing well at home with the Pinkerton family. Unfortunately, the large medical bills,  is a lot to handle for one family. The Salem Police Foundation is trying to help.  
The fundraising campaign is in coordination with #GivingTuesdayNow on May 5.
Donations are accepted for Max on www.SalemPoliceFoundation.org/donate