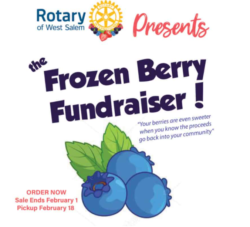 Order NOW, Sale ends Feb. 1, Pick up by Feb.18 from 3pm-6pm in the parking lot behind Roth's in West Salem
Support the community and fill your freezer with berries! These berries are harvested at the peak of ripeness and flash frozen into perfect individual berries. They're great for smoothies, yogurt parfaits, salads, pies, waffle mix, mixed drinks, and anything else you'd like!
Order here: Frozen Berries – West Salem Rotary Club
Every dollar raised is reinvested into the people and organizations of West Salem.The entire fundraiser is designed with community in mind; from our farmers at Willamette Valley Fruit Co to our teachers at SKPS and everywhere in between.